Maquinas de medir Verticales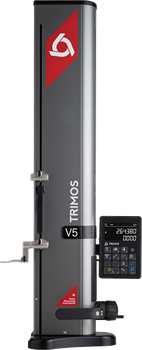 Product Categories: Maquinas de Medir
Product Tags: Vertical
Product Page: http://mesure.com.ar/producto/maquinas-de-medir-verticales/
Product Description
A height gauge is a dimensional measuring instrument with a single vertical axis used on a granite table. It is used universally
for the measurement of mechanical parts. Its preferred location is the workshop, close to the machining center, or the measuring
room. It provides accurate, fast and easy measurement of parts in production, directly by the operator.
The measurement of distances, diameters and center distances are the basic functions of a height gauge. The most sophisticated
models (2D) offer advanced functionalities such as 2-dimensional measurement, statistics or programming, but also
measurement of perpendicularity, angle, flatness and temperature compensation.
What is a 2D Height Gauge?
The height gauge is positioned between the hand tools and the 3D measuring machines (CMMs). It offers the following
advantages :
l Measuring accuracy similar to the best CMMs
l Universal measuring instrument, substitutes for most hand tools
l Extremely fast and simple measurement
l Autonomous operation on rechargeable batteries
l Use close to the machining center, no bottlenecks in metrology
l Time savings compared to a CMM for equivalent measurements
l Allows measurements that were previously only possible on CMMs, e.g. 2D
l Allows you to reserve CMM time for the most complex tasks
l Considering the above points, the return on investment is very fast.