maquina Portátil para Medición por coordenadas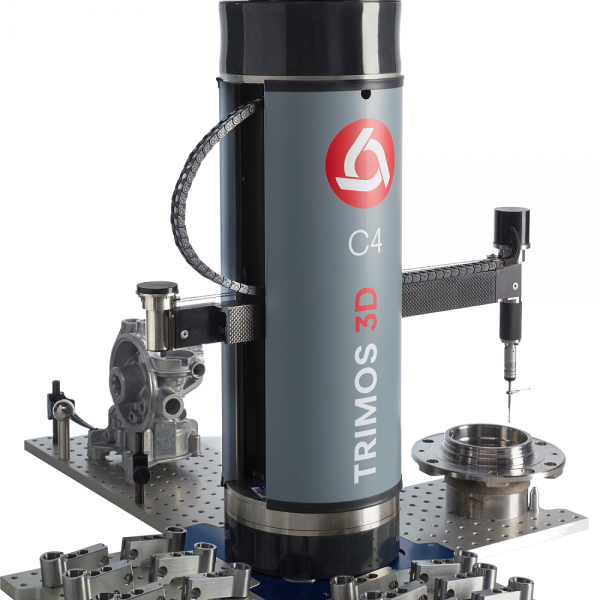 Product Categories: Maquinas de Medir, Metrología dimensional
Product Page: http://mesure.com.ar/producto/maquina-portatil-para-medicion-por-coordenadas/
Product Description
Trimos new C-Line is the world's first truly portable CNC Coordinate Measuring Machine designed for the workshop. This product line is part of the new TRIMOS 3D product group.
• Portable for the maximum of flexibility (works on batteries)
• Fully CNC combined with manual operation
• Ethernet or wireless communication (WiFi / Bluetooth)
• Small footprint, for a large volume of work
• Designed for workshop operation
• High precision, thanks to the Renishaw TP20 probe
• Ease of use thanks to Aberlink software
• Offline programming by importing a CAD model
• Logical 3D complement to the height gage 1D/2D
Portable
At only 13,5 kg, the CNC C4 goes with you wherever you need it. No longer are you required to take the part to the CMM, the C4 can be deployed directly in the manufacturing process.
Easy-to-Use
The C4 is the easiest portable direct computer control CMM to use. Built with the intention of lowering the threshold of training needed to successfully operate and even program a DCC CMM, every component, from the mechanics to the software, has been examinded for optimal user experience and ease-of-use.
Software
The C-Line is delivered standard with the ControlCAT software, which allows you to perform many type of measurements: distance, circle, plane, line, point… To take full advantage of the performance of the C4, we advise the optional Aberlink software, 3D software offering the advantage of ease of use. Other measurement software are compatible: PolyWorks, CMM Manager, Verisurf etc.